Previous summer I've stay for a couple of weeks in France, on a domain or estate (how you like to call it) in France, called Domaine de Bellac. The domain is situated on the borders of the Charente and the Dordogne in a beautiful green part of France: the Périgord-Vert. Once you're there, you don't want to leave. So beautiful peaceful with looking over a field of grazing Limousin cows. Since its surrounded by forest and a private land with around 35 hectares, you feel like you're alone. With shopping to the local bakery as your main get away during the day, where the count the breads still on a super old-fashioned cash desk and the shopping bell rings when you enter the shop.

Several times I've visited this little paradise and even organized a retreat. I know the environment quite good and don't have the urge to go out, except for a lunch or diner or to buy some groceries to lit the barbecue at night. As I was in a kind of administrator role, I advised the guests to explore the real France life during there holiday.  
Visit a French week market 
It doesn't matter where you are in France, a French week market is always around the corner. Here in the regio, there are two morning markets: on Wednesday in Piégut-Pluviers and on Friday in Brantôme, in the Dordogne. When visiting that last mentioned village, combine your day trip with a canoe or boat trip. The village is surrounded by water and is called the Venice of the Périgord-Vert. Worth a visit. For lunch go to the organic cafe Comme à la maison (13 Quai Bertin, 24310 Brantôme). And be on time for the market, they start packing their stuff.  As the French also go for a well-deserved lunch.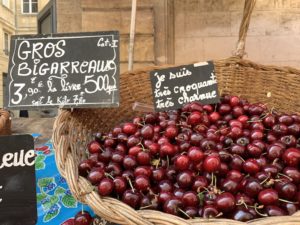 Find the beste castles in France 
France has a lot of chateaux, or castles. In the village La Rochefoucauld you'll find an extraordinary well-maintained castle. The owner's mother still lives at the castle and has her own part. If you're lucky you'll see her walking around with her little dog. She walkes like a a real castle lady across the square and you'll recognize her immediately. In the castle's office you can read the ancient administration, how much money comes in and how much money goes out (like the payment of the gardening). All well-written with a pencil. So special. Kids can dress up in one of the other castle departures where you'll find a dozen of ancient castle clothes. Who doesn't want to be a princess?
Imagine yourself in the Middle Ages and visit a French village 
A French square, a chateaux with wonderfully scented flowers, beautiful lanterns and an idyllic French bistro. When you cross it late at night, you feel like a god in France. Those summer evenings where it doesn't matter what time it gets, looking at the beautiful starry sky.
Eat at a typical French restaurant 
Of course you have your own style and preference when you eat out. In this region I can recommend a few restaurants I'm excited about. Due to the hospitality, entourage, quality of the food, service. Nowadays I'm aware of the best places and always go back to my favorite places.
No. 1 Chez Steph in La Rochefoucauld (however Steph sold the place, this position may be replaced by his new restaurant). If you are a meat lover, oyster lover, pizza lover, cheese fondue, you can hardly imagine it or it is on the map here. Worth your visit and so does the locals. Reserve a spot in advance, on weekdays and at the weekend this is a busy place. Visit the Chez Steph website.
No. 2 Cafe L'Equipe in La Rochefoucauld – at that French square with the great Olivier as the manager, I could not believe at first that he had left his old "boss" Steph. Later I understood that he started a bistro under his care. Now I could have known that because in this bistro all the details as Steph and his nice wife were right. Here you can visit the Facebook page of cafe L Equipe.
No. 3 La Grange Aux Oies restaurant in Nieuil – a feast to eat here and star-worth, from the terrace you have a view of a chateau and castle garden. Here you can visit the website of restaurant La Grange Aux Oies.
Golf in France
The last time on this golf course, a deer jumped past 100 meters. That makes this job special, it is surrounded by nature and you are often surprised by these wonderful moments. A hilly course with 18 holes, 18 holes compact and great greens to improve your handicap. The course is green due to the climate and hardly visited. You can almost always play and do not have to worry that the group behind you is knocking at your door. Visit the website of Golf de la Preze. 
Enjoy nature, sounds and the French starry sky 
You don't have to do all of the above to have a good time. It is just what you are looking for during your vacation of course. My day is perfect with a breakfast overlooking the French valley, a fresh croissant from the oven (yes I have found that those from the Intermarche taste better than those from the bakery), regional jam, baguette with demi-sel butter (ahhhhh so tasty) and cheese, in the afternoon we were often treated by a couple of deer in the meadow in front of us, during the barbecue in the evening and when dusk even a passing fox fell. There with a good glass of wine, a game of yahtzee watching the sparkling starry sky and the sounds of the crickets and the owl in the background. That is very special. Just listen if you click on the video below: