Je plek voor de health retraite 'Happy Escape France' een uniek actief lifestyle programma, is gereserveerd. Super leuk dat je erbij bent!
Je ontvangt binnen enkele minuten een e-mail in je inbox met de bevestiging. Geen mail ontvangen? Vergeet niet in je SPAM te kijken, misschien is de mail daarin beland. Je ontvangt ruim op tijd alle gegevens over de Happy Escape.
En vergeet niet mijn Facebookpagina meteen even te liken ?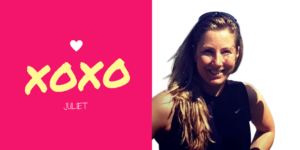 Je doet mij en je netwerk een groot plezier als je dit deelt. Hoe meer kennis ik kan delen, hoe meer vrouwen zich energieker, fitter en gelukkiger voelen met een actieve levensstijl passend bij hun leven. Deel dit Retraite inschrijvingsformulier dan op social media.
To do: regel je vervoer van en naar locatie tijdig:
Kom je met de auto of met het vliegtuig?
Vliegtuig: Vergeet je vliegticket niet te boeken! Vanaf airport Bergerac (vluchtschema Rotterdam/ Den Haag – Bergerac) is een airport transfer op aanvraag bij ons mogelijk. Vraag naar de mogelijkheden en geef even door of je hier gebruik van wilt maken.
Auto: Uiteraard is het ook mogelijk dat je zelf een auto huurt vanaf het airport, zodat jij deze zelf tot je beschikking hebt tijdens jouw verblijf. Een auto huren kun je eenvoudig aangeven in het boekingsproces wanneer je je vliegticket boekt bij bijvoorbeeld Transavia.
Liefs, Juliet