Meet this one-of-a-kind healthy snack, which you probably seen in the healthy stores across town. If you want to control your food cravings and have a saturated feeling during the day, you need to eat more. No more sugary products. But the right protein rich snacks to keep that whining inner voice quiet.
Why is it special: It's protein rich and with the right fats.
How does it work: You prepare it in your own kitchen, use a jar or maybe one of those nice mason jars. Follow the recipe instructions and et voila. You can store them for 5 days in your fridge. Take them out whenever you need a healthy snack. 
Your next step: Read the recipe below and start preparing your first healthy snack and beet your sugar cravings from now on. 
Everybody deserves a great body. How you eat is everything. 
Chia seed pudding with Blueberry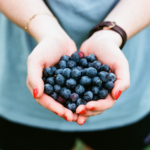 Print This
Ingredients
1 Tablespoon chia seeds

100ml Coconut milk

Pinch fresh vanilla

Topping: 2 tablespoon blue berry (frozen or fresh)
Instructions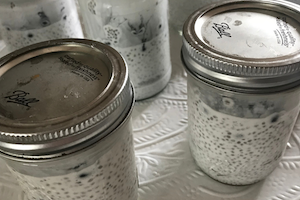 It's best to buy or recycle little 250 – 300 ml jars with lid and shake all ingredients in the jar.
Start with adding the chia seeds in the jar, add a pinch of fresh vanilla to it, shake them, add the coconut milk, close the jar and shake it for one minute.
Store the jar in your refrigerator for 2 hours, for better consistency.