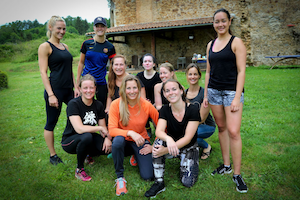 Contact
Have a question, a comment? I'd love to hear from you! Shoot me a message on my Instagram account or fill in this form below.
Why work with Happy Happy Juliet
Julia is Founder of Happy Happy Juliet. Julia has been at the forefront of harnessing the power of media, news, content, sponsoring and digital channels since 2007, when she played a key role in the development of marketing for sport news platform Telesport.nl, part of De Telegraaf (Telegraaf Media Groep). After realising the impact of digital content in the media landscape and the amazing possibilities due to technology she founded Happy Happy Juliet at the age of 36.
Julia runs the daily management and creates all content for Happy Happy Juliet by herself. During many trips around the world exploring and collecting beautiful places to remember to engage audiences across the globe.
As a blogger and marketer, Julia is responsible for the platform and company strategy. In 2018 she organized her very own first health retreat in France with 10 participants. She was mentioned in the reviews as exceptional and remarkable. With an average rating of the whole experience: 9,6.
Brand activation and content creation plays a big role when working with a selection of qualified brand and partners, while always keeping the match of interesting content and storytelling in mind.
Throughout her career in the corporate world at TMG, she has secured many partnerships and developed creative advertising concepts for leading brands including Unilever, Heineken, Lotto, VriendenLoterij, Nike, Asics, Corendon, Volkswagen, Koga Miyata and sports unions KNVB, NOC*NSF, KNSB and KNLTB.
She loves to work with brands and likes to be responsible for pioneering and discovering how brands work with content to engage their audiences across the globe. As a marketer from origin, Julia loves to brainstorm with and advise clients on their content strategy and creating a partnership while always keeping the match of the brand and Happy Happy Juliet as the quality of creative in mind.