Things to do in France explore beautiful French cities
Now that you're in France…. Discover the romantic French villages (Périgueux, Angoulême, Brantôme) and historic castles (La Rochefoucauld). Visit the bustling week markets, get to know the welcoming locals, and enjoy our little known local products. Le Perigord-Vert. The greenest sunshine of France.
Limousin & Dordogne, a very diverse region that challenges you to take walks, go on the mountain bike, to golf, or to take a canoe on the fast-flowing river. Take a swim in one of our clear freshwater lakes. Enjoy the beautiful sandy beaches. But mostly suck in the enchanting atmosphere that inspires and above all remains pure. Pure enjoyment. Pure nature. Pure France.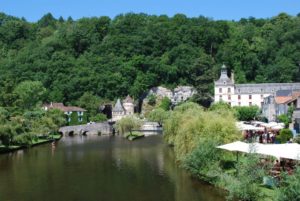 Domaine de Bellac is surrounded by beautiful walks and bike tracks. Did you know this region: has the cleanest air of all France, is known for their welcoming locals, there are relatively few tourists, has beautiful walks and bike routes, organizes many events, the sun shines most of all France (except of the Provence).
The region invites you to enjoy the many walks, bike routes, mountain bike tracks, and golf course. At the large lakes you will find fine sandy beaches. There are different options to hire pedal boats, sailing boats, and canoes.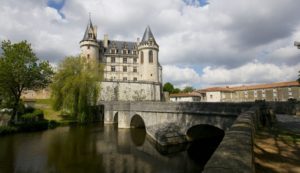 .
The Perigord Vert is the green part of the Dordogne department, consisting of abundant vegetation, many rivers conducive to outdoor activities and a rich architectural heritage, historical and artistic. Jules Verne is the first to have called this area the "Périgord Vert". 
Golf lovers eat your heart out with a golf course within 5km distance
Bordering on the Domaine de Bellac (on 5km distance) you will find the golf course Golf de la Prèze. This professional 18-hole course is known to be a true challenge. In high season you can follow introductory lessons. For those who seek a golfing holiday can book a special golf package deal. And it doesn't stop here because you can visit a range of golf courses within the region.
Location active, yoga and health retreat: Domaine de Bellac | France, Europe
Newsletter active, yoga and health retreat
Please subscribe to my Dutch newsletter to learn more about a healthy and happy lifestyle, this summer the Happy Escape France retreat holidays will take place, a week, midweek and long weekend all-in with a mindblowing program. An amazing lifestyle retreat to be active and to relax.